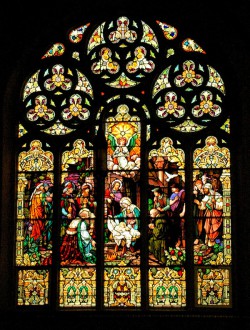 As early as the 1840's, visiting priests were periodically offering Mass in the homes of Catholics in Ionia.  In 1861, Peter Hackett donated an acre of land for the construction of a church, and in 1863, Charles Bolte became the first resident pastor of the Catholic community here.  A small wooden frame church, named St. Peter's, was dedicated on November 1, 1863.  It was located just to the south of our current building, but with an east-west orientation.
On Februry 21, 1881, Fr. Bolte announced plans to build a new church of local sandstone and VanderHeyden brick.  Plans for the Romanesque Revival style structure were drawn by Peter Dederich of Detroit, and construction was provided by J.V. Consaul for a cost of $8,563.  Bishop Caspar Borgess of Detroit dedicated the new SS. Peter & Paul on New Year's Day 1882.  The addition of crucifixion statuary from Mayer's Art Institue in Munich and stained glass from Friederichs and Staffen increased the total cost to $13,000.
In 1901 the Lyon and Healy Tracker Organ was purchased and installed.  In 1916 the church was extensively remodeled and the transept wings with their large stained glass windows were added.  The stained glass was purchased from Munich Studio in Chicago.  The entire renovation cost $35,000.
The parish was originally part of the Archdiocese of Detroit.  It was transferred to the Lansing Diocese in 1937, then to the Diocese of Grand Rapids in 1938.  Fourteen pastors have served SS. Peter & Paul since its founding under Fr. Bolte.
Our current pastor, Fr. Thomas Brown, has been here since July 1, 2016. Weekend liturgies are celebrated in English at 4:00 p.m. on Saturday, and 8:00 a.m. and 11:30 a.m. on Sunday mornings.  Mass is celebrated in Spanish at 1:00 p.m.